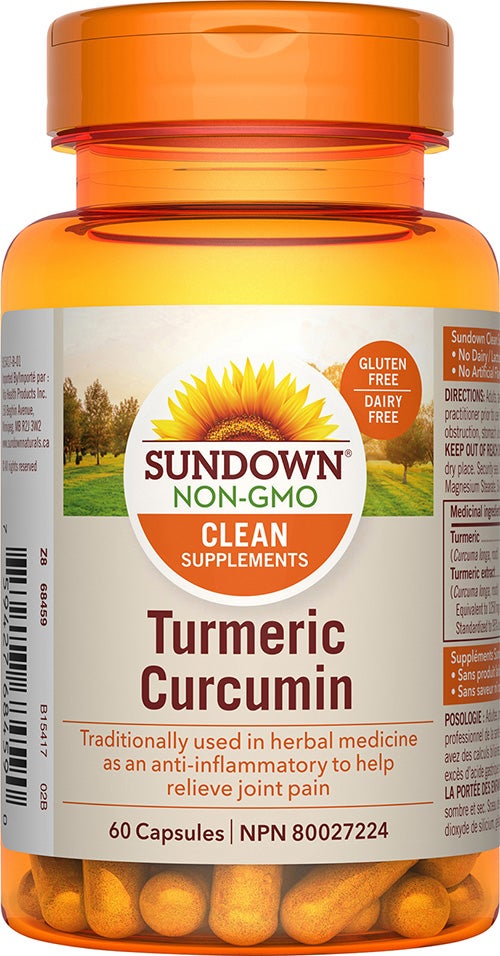 Turmeric Curcumin 450 MG
Turmeric is an herbal component with a long history of use in India. It not only provides antioxidants for the maintenance of good health, but it has been traditionally used in Herbal Medicine as an anti-inflammatory to help relieve joint pain, and as a digestion aid.
60 Capsules | NPN 80027224

---
Adults take two (2) capsules per day.
WARNING: Consult a healthcare practitioner prior to use if you are pregnant or breastfeeding, have gallstones, a bilel duct obstruction, stomach ulcers, or eccess stomach acid, or if symptoms persist or worsen.
KEEP OUT OF REACH OF CHILDREN. Keep tightly closed at room temperature in a dark, dry place. Security seal.
NON-MEDICAL INGREDIENTS: Gelatin (Bovine and/or Porcine), Magnesium Stearate, Silicon Dioxide, GStearic Acid.
Medicinal ingredient per capsule:
Turmeric (Curcuma longa, root)450 mg
Turmeric extract (Curcuma longa, root)50 mg
Equivalent to 1250 mg of root
Standardized to 95% curcuminoids