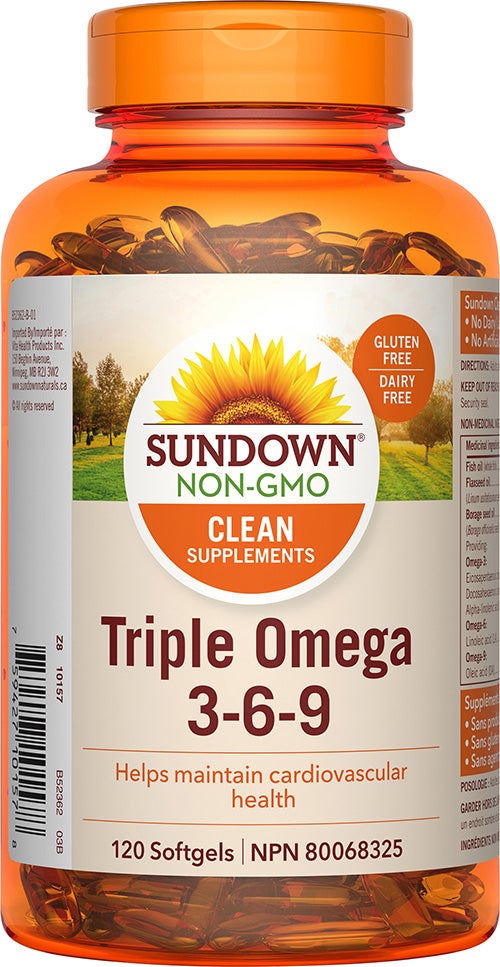 Triple Omega 3-6-9 1200 MG
Our Triple Omega 3-6-9 is a source of alpha-linolenic acid (ALA), omega-3 fatty acids and essential fatty acids. The softgel format makes it an easy to swallow way to help maintain your good health.
120 softgels | NPN 80068325

---
Adults, take one (1) softgel three (3) times per day.
KEEP OUT OF REACH OF CHILDREN. Keep tightly closed at room temperature in a dark, dry place. Security seal.
NON-MEDICINAL INGREDIENTS: Gelatin, Glycerin, Tocopherols.
Medicinal ingredients per softgel:
Fish oil (whole fish)400 mg
Flaxseed oil (Linum usitatissimum, seed)750 mg
Borage seed oil (Borago officinalis, seed)50 mg
Providing:
Omega-3:
Eicosapentaenoic acid (EPA) + Docosahexaenoic acid (DHA)104 mg
Alpha-linolenic acid (ALA)338 mg
Omega-6:
Linoleic acid (LA)83 mg
Omega-9:
Oleic acid (OA)90 mg