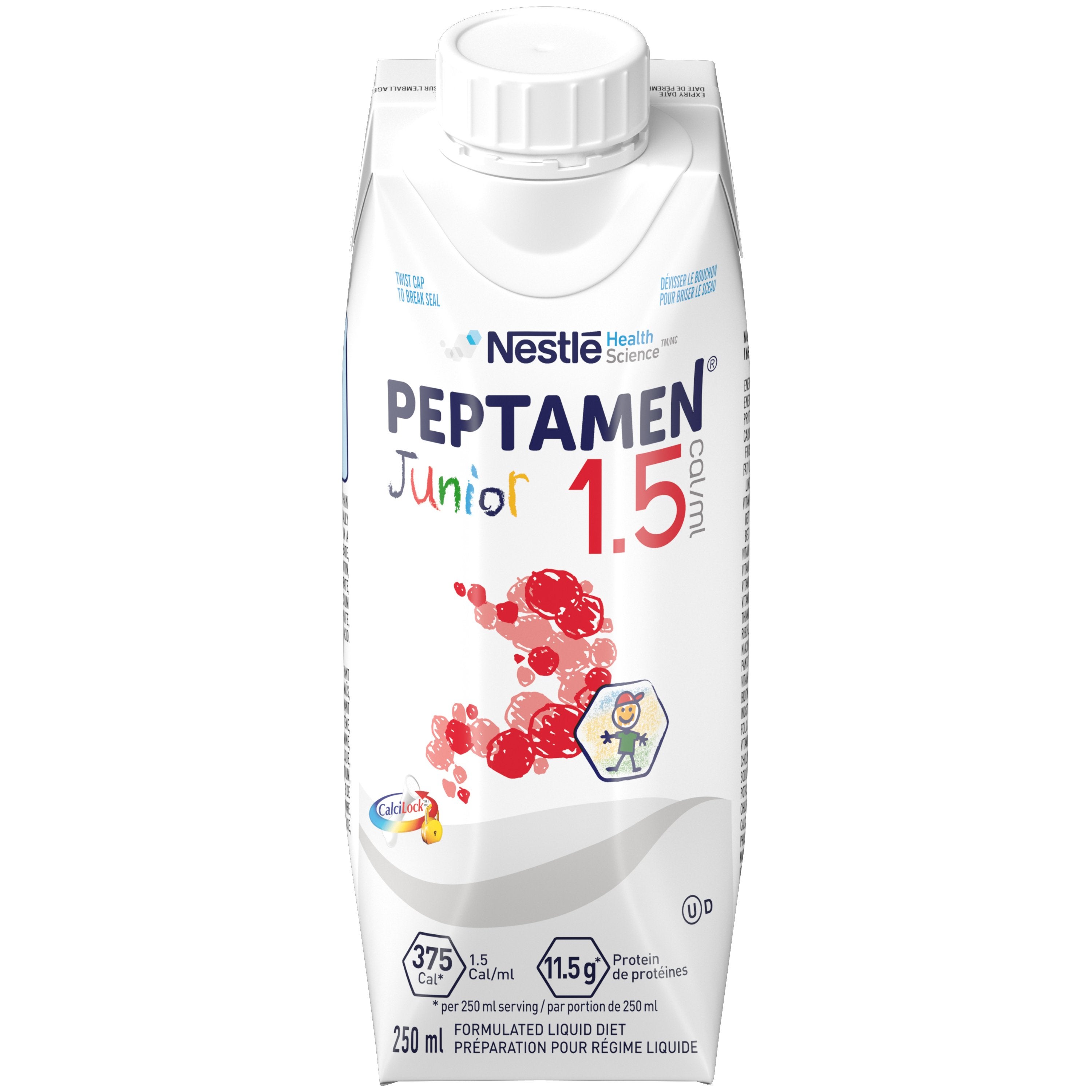 PEPTAMEN® Junior 1.5 is formulated to meet the nutritional needs of children 1-13 years. PEPTAMEN® Junior 1.5 is a 1.5 Cal/ml formula for elevated energy needs or volume sensitivities. It includes a peptide based, 100% whey protein for enhanced digestion and protein absorption, 60% MCT for enhanced lipid absorption, with EPA, DHA and PHGG. PHGG is known to be a well tolerated soluble fibre.
---
                 - Malabsorption
                 - Delayed gastric emptying
                 - Diarrhea
                 - Short-bowel syndrome
                 - Cystic fibrosis
                 - Radiation enteritis
Early enteral feeding

Transition from or dual feeding with TPN

Volume restrictions

Increased energy needs
Caloric density
1.5 Cal/ml
Protein
12%
Carbohydrate
49%
Fat
39%
Protein Source
partially hydrolyzed whey protein (milk)
Carbohydrate Source
corn, maltodextrin, corn starch
Fat Source
MCT (coconut and palm kernel oil), soybean oil, canola oil, tuna oil
Dietary Fibre
6 g/1000 ml
Fibre Source
partially hydrolyzed guar gum
n6:n3 Ratio
3.7:1
MCT:LCT
60:40
Omega-3 Fatty Acids
700 mg EPA & DHA/1000 ml
Water Content
772 ml/1000 ml
Osmolality
430 m0sm/kg water
Kosher
Y
Gluten Free
Y
Lactose
<0.5 g lactose/100 ml (not for patients with galactosemia)
Low Residue
N
Meets DRI for 25 micronutrients
750 ml (1-8 years)
1000 ml (9-13 years)
WATER, CORN MALTODEXTRIN, PARTIALLY HYDROLYZED WHEY PROTEIN (FROM MILK), MEDIUM CHAIN TRIGLYCERIDES (FROM COCONUT AND/OR PALM KERNEL OIL), CORN STARCH, SOYBEAN OIL, CANOLA OIL, PARTIALLY HYDROLYZED GUAR GUM, FISH OIL (FROM ANCHOVY, SARDINE), SALT, TAURINE, L-CARNITINE, VITAMINS (VITAMIN A PALMITATE, BETA-CAROTENE, VITAMIN D3, DL-ALPHA-TOCOPHERYL ACETATE, VITAMIN K1, SODIUM ASCORBATE, THIAMINE MONONITRATE, RIBOFLAVIN, NIACINAMIDE, CALCIUM PANTOTHENATE, PYRIDOXINE HYDROCHLORIDE, BIOTIN, FOLIC ACID, CYANOCOBALAMIN, CHOLINE CHLORIDE, INOSITOL), MINERALS (SODIUM PHOSPHATE, SODIUM CITRATE, POTASSIUM PHOSPHATE, POTASSIUM CITRATE, POTASSIUM CHLORIDE, TRICALCIUM PHOSPHATE, MAGNESIUM CHLORIDE, MAGNESIUM OXIDE, FERROUS SULPHATE, ZINC SULPHATE, MANGANESE SULPHATE, COPPER SULPHATE, POTASSIUM IODIDE, SODIUM SELENATE, CHROMIUM TRICHLORIDE), GUAR GUM, SOY LECITHIN, PROTEASE, CITRIC ACID.
CONTAINS MILK, SOY AND FISH (ANCHOVY, SARDINE)
| | | | |
| --- | --- | --- | --- |
| | Units | 100 ml | 250 ml |
| Energy | Cal | 150 | 375 |
| Energy | kJ | 630 | 1570 |
| Protein | g | 4.6 | 11.5 |
| Carbohydrate | g | 18.4 | 46 |
| Fibre | g | 0.6 | 1.5 |
| Fat | g | 6.8 | 17 |
| Linoleic Acid | g | 0.7 | 1.75 |
| Vitamin A | IU | 440 | 1100 |
| Retinol | IU | 240 | 600 |
| Beta-Carotene | IU | 200 | 500 |
| Vitamin D | IU | 90 | 225 |
| Vitamin E | IU | 2.68 | 6.7 |
| Vitamin K | mg | 0.0092 | 0.023 |
| Vitamin C | mg | 6 | 15 |
| Thiamine | mg | 0.12 | 0.3 |
| Riboflavin | mg | 0.2 | 0.5 |
| Niacin | mg | 1.52 | 3.8 |
| Pantothenic Acid | mg | 0.6 | 1.5 |
| Vitamin B6 | mg | 0.2 | 0.5 |
| Biotin | mg | 0.003 | 0.0075 |
| Inositol | mg | 12 | 30 |
| Folic Acid | mg | 0.022 | 0.055 |
| Vitamin B12 | mg | 0.00032 | 0.0008 |
| Choline | mg | 48 | 120 |
| Sodium | mg | 72 | 180 |
| Potassium | mg | 230 | 575 |
| Chloride | mg | 150 | 375 |
| Calcium | mg | 180 | 450 |
| Phosphorus | mg | 136 | 340 |
| Magnesium | mg | 30 | 75 |
| Iron | mg | 2.1 | 5.3 |
| Zinc | mg | 1.1 | 2.8 |
| Manganese | mg | 0.24 | 0.6 |
| Copper | mg | 0.16 | 0.4 |
| Iodine | mg | 0.016 | 0.04 |
| Selenium | mg | 0.006 | 0.015 |
| Molybdenum | mg | 0.0072 | 0.018 |
| Chromium | mg | 0.0036 | 0.009 |
| Taurine | mg | 12 | 30 |
| L-Carnitine | mg | 6 | 15 |
---

TO ENSURE WE ARE DELIVERING YOU THE APPROPRIATE CONTENT, PLEASE CONFIRM: