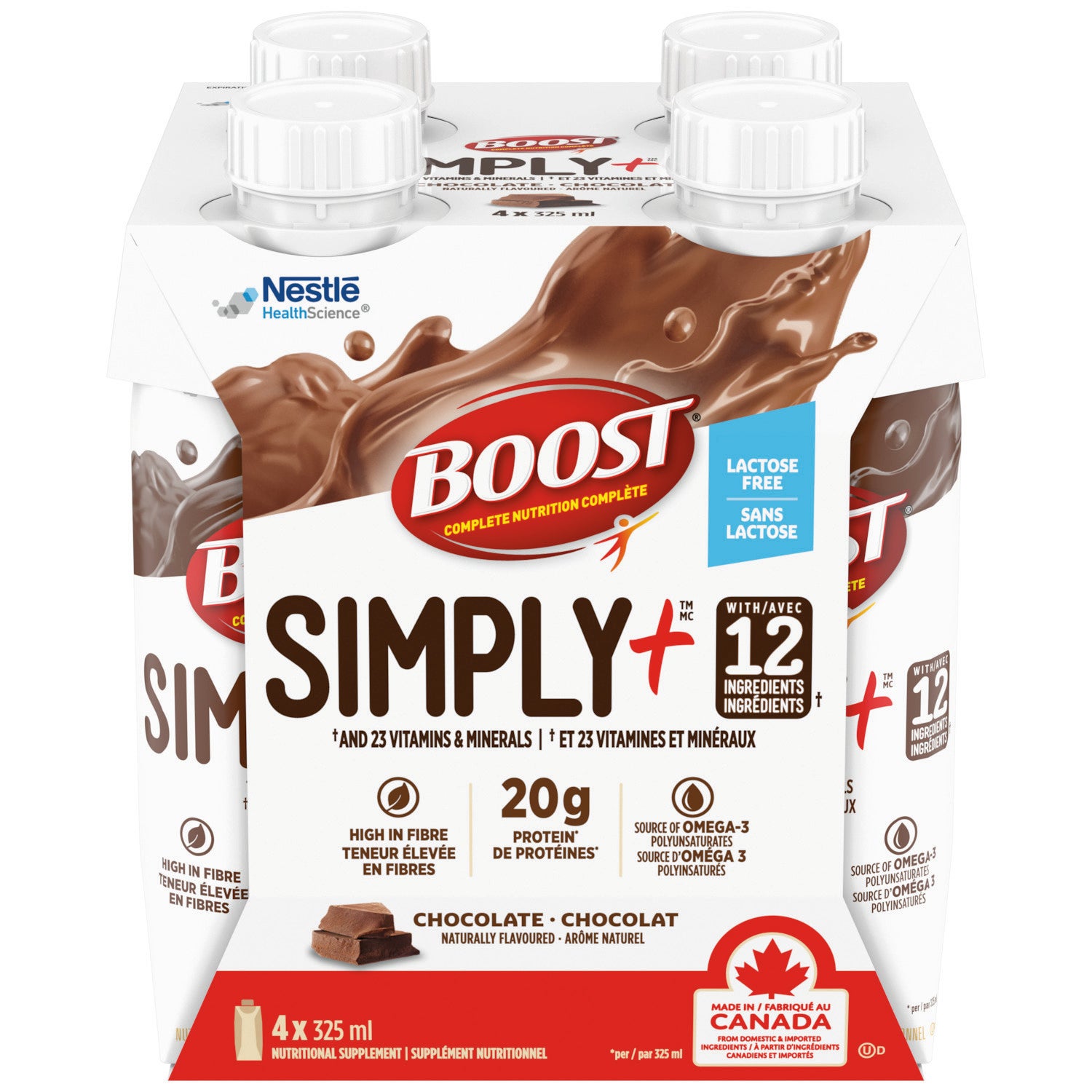 BOOST® Simply+ is our simplest recipe† yet, with 12 Ingredients (11 Ingredients in Vanilla) and a blend of essential vitamins & minerals. Balanced nutrition of BOOST® Simply+ provides:
• 20 g Protein (2x the protein vs BOOST® Original 237 ml)
• 215 Calories‡
• 60% Less Sugar†
• 4 g of Fibre‡ (12% of daily fibre*).

BOOST® Simply+ is a source of Omega 3 polyunsaturates, has no artificial flavours, colours or sweeteners & contains no preservatives. It is also lactose & gluten free. It is ready to drink has great taste you're guaranteed to love. For Oral Use.
---
Individuals who need increased protein and or reduced sugar

Malnutrition

When recovering from illness or surgery
During and after cancer treatment
| | |
| --- | --- |
| Caloric density | 0.7 Cal/ml |
| Protein | 37% |
| Carbohydrate | 31% |
| Fat | 32% |
| Protein Source | milk protein isolate |
| Carbohydrate Source | tapioca starch, oat fibre |
| Fat Source | high oleic sunflower oil, flaxseed oil |
| Dietary Fibre | 4g/serving |
| Fibre Source | oat fibre, flaxseed oil |
| n6:n3 ratio | 2.1:1 |
| MCT:LCT | 0.0815:2.19 |
| Water content | 84.71g/100ml |
| Kosher | Y |
| Gluten Free | Y |
| Lactose Free | Y |
| Low Residue | N |
| | | |
| --- | --- | --- |
| Flavour | Product Code | Packaging |
| Vanilla | 12421856 | BOOST SIMPLY+ Van Prisma 3(4X325ml) |
| Chocolate | 12422025 | BOOST SIMPLY+ Choc Prisma 3(4X325ml) |
Water, Milk protein isolate, Tapioca starch, High oleic sunflower oil, Oat fibre, Flaxseed oil, Salt, Vitamins (vitamin A palmitate, vitamin D3, DL-alpha-tocopheryl acetate, sodium ascorbate, thiamine hydrochloride, riboflavin, niacinamide, calcium pantothenate , pyridoxine hydrochloride, biotin, folic acid, cyanocobalamin), Minerals (dipotassium phosphate, potassium citrate, magnesium hydrogen phosphate, ferrous sulphate, zinc sulphate, manganese sulphate, copper sulphate, potassium iodide, sodium selenite, sodium molybdate, chromium trichloride), Natural flavour, Gellan gum, Steviol glycosides, Lactase. Contains: Milk
| | | | |
| --- | --- | --- | --- |
| Vanilla flavoured | Units | 100 ml | 325 ml |
| Energy | Cal | 66 | 215 |
| Energy | kJ | 277 | 900 |
| Protein | g | 6 | 20 |
| Carbohydrate | g | 6 | 18 |
| Fibre | g | 1 | 4 |
| Sugars | g | 2 | 5 |
| Fat | g | 2 | 8 |
| Polyusaturates | g | 0.31 | 1 |
| Linoleic Acid | g | 0.22 | 0.73 |
| Linolenic Acid | g | 0.10 | 0.34 |
| Saturates | g | 0.31 | 1 |
| Vitamin A | μg | 83 | 270 |
| Vitamin D | μg | 0.4 | 1.4 |
| Vitamin E | mg | 1 | 3 |
| Vitamin C | mg | 5 | 15 |
| Thiamine | mg | 0.1 | 0.36 |
| Riboflavin | mg | 0.1 | 0.39 |
| Niacin | mg | 2 | 7.2 |
| Pantothenic Acid | mg | 0.5 | 1.5 |
| Vitamin B6 | mg | 0.1 | 0.43 |
| Biotin | μg | 9 | 30 |
| Folic Acid | μg | 22 | 72 |
| Vitamin B12 | μg | 0.2 | 0.6 |
| Sodium | mg | 62 | 200 |
| Potassium | mg | 138 | 450 |
| Chloride | mg | 35 | 115 |
| Calcium | mg | 120 | 390 |
| Phosphorus | mg | 77 | 250 |
| Magnesium | mg | 26 | 85 |
| Iron | mg | 0.8 | 2.7 |
| Zinc | mg | 1 | 3.3 |
| Manganese | mg | 0.3 | 1.1 |
| Copper | mg | 0.1 | 0.45 |
| Iodine | μg | 14 | 45 |
| Selenium | μg | 3 | 11 |
| Molybdenum | μg | 6 | 21 |
| Chromium | μg | 3 | 10 |