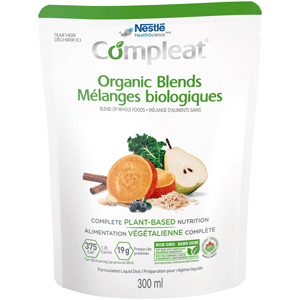 Compleat® Organic Blends is a 1.25 Cal/ml plant-based, real food ingredients formula. It contains a blend of organic whole foods, with plant-based protein sources and fibre from vegetables and fruit. This formula does not contain dairy, soy, or corn. For oral and tube feeding use.
Click here to learn about how some of our formulas are suitable for a vegan diet
---
Characteristics
No soy, corn, or dairy ingredients
Lactose free and Gluten free
Organic/Non-GMO ingredients
375 Calories & 19 g of Protein per 300 ml serving
For tube feeding and oral use
Suitable for those following a Vegan Diet.

TO ENSURE WE ARE DELIVERING YOU THE APPROPRIATE CONTENT, PLEASE CONFIRM: