Pasta Salad
---
Portion: Approx. 1/2 cup per serving
---
How to prepare
For pasta, cook until soft and pasta easily breaks apart.


Drain and place into blender or food processor.


Purée pasta salad with milk until smooth.


Add ThickenUp® Clear. Process briefly until mixed, scraping sides of bowl.


Cover and chill to 41°F (5°C) or below before serving.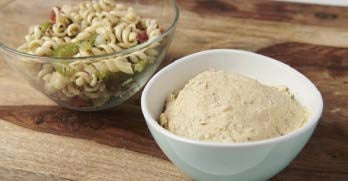 Ingredients (for 5 servings)
Pasta salad, prepared
2 1/2 cups (625 ml)
Milk
1/4 cup + 1 Tbsp (75 ml)
ThickenUp® Clear
1 Tbsp + 2 tsp (25 ml)
Nutritional information
Serving size:
Approx. 1/2 cup
Calories
150
Fat
6 g
Sodium
550 mg
Carbohydrates
19 g
Dietary Fibre
2 g
Protein
4 g
Nutrition calculations based on using 2% milk.
Please note that level of moisture, raw ingredients, and processing techniques, may vary yielding different results in texture. Check your recipe consistency by using the IDDSI testing methods at
www.iddsi.org
.