Classic Hot Chocolate
---
MAKES: 1 serving (125 mL)
---
PREP TIME: 5 minutes


COOK TIME: 5 minutes


TOTAL TIME: 10 minutes
+ 15 minutes standing time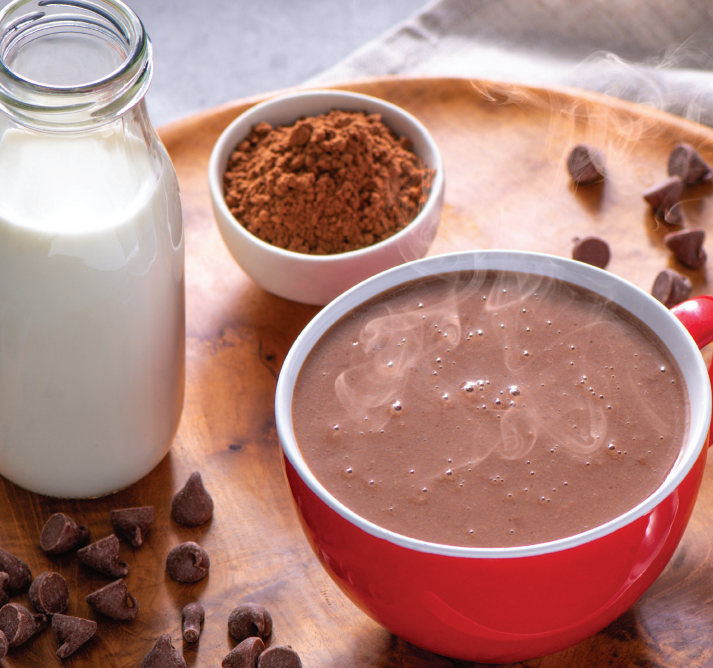 INGREDIENTS
Cocoa Powder
½ tsp (2 mL)
Granulated Sugar
½ tsp (2 mL)
Milk
½ cup (125 mL) 2%
Milk Chocolate Chips
0.5 oz (14 g)
Vanilla Extract
¼ tsp (1 mL)
Beneprotein® or Boost® Just ProteinTM
1 packet (25 mL/7 g)
ThickenUp® Clear
1 scoop (4 mL/1.4 g)
NUTRITION INFO - PER SERVING
Serving size:
1 serving (125 mL)
Calories
170
Protein
11 g
Fat
6 g
Carbohydrate
19 g
Fibre
0 g
Sugars
16 g
Sodium
90 mg
DIRECTIONS
In heatproof 1-cup (250 mL) microwaveable mug, stir together cocoa powder, sugar and 2 tbsp (30 mL) milk to make smooth paste. Pour in remaining milk. Stir in chocolate chips and vanilla.
Microwave on High, stirring once, for 30 seconds. Microwave for 30 seconds more or until milk is steaming and chocolate is melted. Temperature should read at least 146°F.
Stir in Beneprotein® or Boost® Just ProteinTM until dissolved.
Stir in 1 scoop ThickenUp® Clear. Stir briskly with spoon for 20 to 30 seconds or until powder is well dissolved. Allow a minimum of 15 minutes for hot chocolate to reach desired consistency before serving.

Note: For IDDSI LEVEL 3, stir in 2 scoops ThickenUp® Clear
∆
Refer to
www.iddsi.org
.