COMPLEAT Pediatrics® Organic Blends Formula Plant-based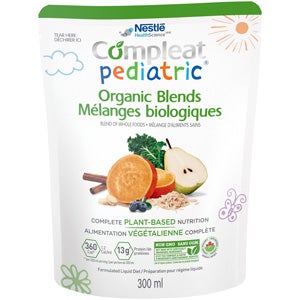 Compleat Pediatric® Organic Blends is a 1.2 Cal/ml plant-based, real food ingredients formula for children 1-13 years. It contains a blend of organic whole foods, with plant-based protein sources and fibre from vegetables and fruit. This formula does not contain dairy, soy, or corn. For oral and tube feeding use.
Click here to learn about how some of our formulas are suitable for a vegan diet
---
Characteristics
No soy, corn, or dairy ingredients
Lactose free and Gluten free
Organic/Non-GMO ingredients
360 Calories & 13 g of Protein per 300 ml serving
For tube feeding and oral use
Suitable for those following a Vegan Diet
Convenient alternative to homemade blenderized tube feeding
Growth failure
Short or long term whole-protein tube feeding regimes
Nutritional Information

COMPLEAT® Organic Blends

Caloric Density

1.2 Cal/mL

Protein

14%

Carbohydrate

46%

Fat

40%

Protein Source

organic hydrolyzed pea protein, organic rice protein concentrate, organic sweet potato purée, organic brown rice flour

Carbohydrate Source

organic sweet potato purée,organic pear purée, organic brown rice flour, organic blueberry purée, organic kale purée

Fat Source

organic extra virgin olive oil, organic canola oil

Dietary Fibre

17 g/1000 ml

Fibre Source

vegetables, fruit, grain (rice)

Water content

820 ml/1000 ml

Osmolality

710 mOsm/kg water

Kosher

N

Gluten Free

Y

Lactose Free

Y

Low Residue

N

Meets DRI for 25 micronutrients

900 ml (1-8 years)
1200 ml (9-13 years)
SWEET POTATO PURÉE*, WATER, PEAR PURÉE*, BROWN RICE FLOUR*, HYDROLYZED PEA PROTEIN*, EXTRA VIRGIN OLIVE OIL*, CANOLA OIL*,
BLUEBERRY PURÉE*, KALE PURÉE*, RICE PROTEIN CONCENTRATE*, SALT, CINNAMON*, GINGER*, TAURINE, L-CARNITINE, VITAMINS (VITAMIN A PALMITATE, VITAMIN D3, DL-ALPHA-TOCOPHERYL ACETATE, VITAMIN K1, ASCORBIC ACID, THIAMINE HYDROCHLORIDE, RIBOFLAVIN, NIACINAMIDE, CALCIUM PANTOTHENATE, PYRIDOXINE HYDROCHLORIDE, BIOTIN, FOLIC ACID, CYANOCOBALAMIN, CHOLINE BITARTRATE, INOSITOL), MINERALS (SODIUM CITRATE, POTASSIUM CITRATE, TRICALCIUM PHOSPHATE, MAGNESIUM CHLORIDE, FERROUS SULPHATE, ZINC SULFATE, COPPER SULFATE, POTASSIUM IODIDE, SODIUM SELENATE, CHROMIUM TRICHLORIDE), ASCORBIC ACID.
*ORGANIC.
| | | | |
| --- | --- | --- | --- |
| | Units | 100mL | 300 ml |
| Energy | Cal | 120 | 360 |
| Energy | kJ | 500 | 1510 |
| Protein | g | 4.3 | 13 |
| Carbohydrate | g | 13.7 | 41 |
| Fibre | g | 1.7 | 5 |
| Fat | g | 5.3 | 16 |
| Linoleic Acid | g | 0.9 | 2.7 |
| Vitamin A | IU | 1900 | 5700 |
| Retinol | IU | 167 | 500 |
| Beta Carotene | IU | 1733 | 5200 |
| Vitamin D | IU | 67 | 200 |
| Vitamin E | IU | 2 | 7.5 |
| Vitamin K | mg | 0.0007 | 0.02 |
| Vitamin C | mg | 8.3 | 25 |
| Thiamine | mg | 0.1 | 0.3 |
| Riboflavin | mg | 0.13 | 0.4 |
| Niacin | mg | 1 | 3 |
| Pantothenic Acid | mg | 0.83 | 2.5 |
| Vitamin B6 | mg | 0.2 | 0.61 |
| Biotin | mg | 0.002 | 0.005 |
| Folic Acid | mg | 0.026 | 0.078 |
| Vitamin B12 | mg | 0.0002 | 0.0007 |
| Choline | mg | 47 | 140 |
| Sodium | mg | 93 | 280 |
| Potassium | mg | 193 | 580 |
| Chloride | mg | 67 | 200 |
| Calcium | mg | 127 | 380 |
| Phosphorous | mg | 117 | 350 |
| Magnesium | mg | 20 | 60 |
| Iron | mg | 1.71 | 3.5 |
| Zinc | mg | 0.87 | 2.6 |
| Manganese | mg | 0.3 | 0.9 |
| Copper | mg | 0.13 | 0.4 |
| Iodine | mg | 0.012 | 0.035 |
| Selenium | mg | 0.005 | 0.015 |
| Molybdenum | mg | 0.014 | 0.042 |
| Chromium | mg | 0.007 | 0.022 |
| Taurine | mg | 8.3 | 25 |
| L-Carnitine | mg | 1.7 | 5 |

TO ENSURE WE ARE DELIVERING YOU THE APPROPRIATE CONTENT, PLEASE CONFIRM: