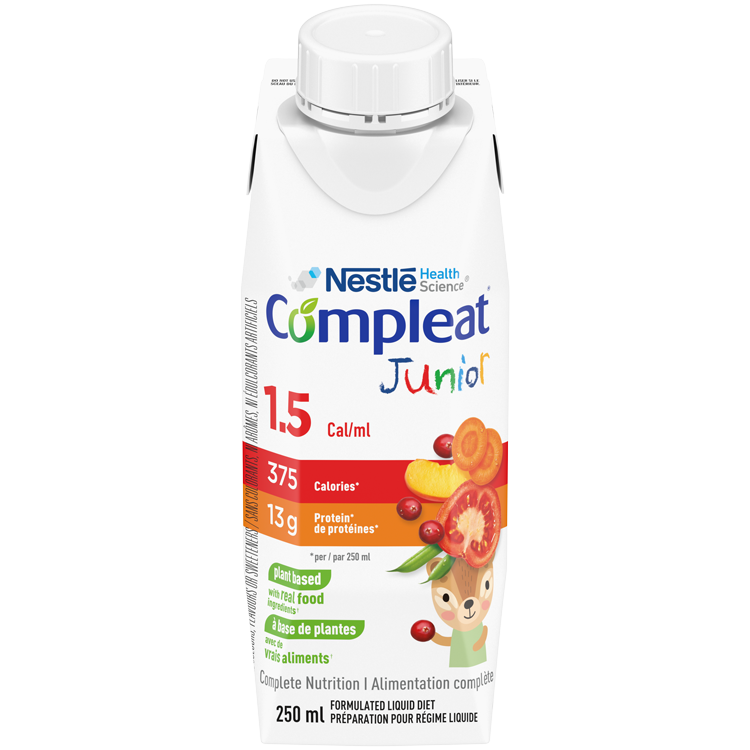 COMPLEAT® Junior 1.5 is a plant-based complete nutrition formula made with a variety of real food ingredients. It includes the equivalent of approximately 1.5 cups of a variety of fruit and vegetable ingredients in every 4 cups (1000 mL) – ingredients you can recognize such as: tomatoes, peaches, green beans, cranberry juice from concentrate and carrots. COMPLEAT® Junior 1.5 is a convenient alternative to homemade oral or tube feeding formulas for children 1 to 13 years of age.
Click here to learn about how some of our formulas are suitable for a vegan diet
---
Characteristics
Plant-based complete nutrition
Fruit and vegetable ingredients from real foods
Concentrated nutrition at 1.5 cal/mL
No ingredients containing any of the priority food allergens: eggs, milk, mustard, peanuts, seafood (fish, crustaceans, molluscs), sesame, soy, tree nuts, sulphites, wheat and triticale
No artificial colours, sweeteners or flavours, or corn
Gluten-Free, Lactose-Free
Suitable for those following a Vegan Diet
Oral and Tube Feeding Use
This site can help your patients and their families understand how to manage their tube feeding.

TO ENSURE WE ARE DELIVERING YOU THE APPROPRIATE CONTENT, PLEASE CONFIRM: